Home > Hardware > EMUHDD & EMUFDD
| | | |
| --- | --- | --- |
| EMUHDD | | - Hard Disk & MO & ZIP Emulator |
| EMUFDD | | - Floppy Disk Emulator |
IDE, SCSI, Floppy ← from/to → TCP/IP Network, USB, CF, SDC
Retrofit services for the industry - From the machinery to the solution
Compliant with Industry 4.0, DNC and Advanced quality management ISO 9001/16949
The most reliable and configurable universal HW emulators
Examples of machinery equipped with EMUHDD & EMUFDD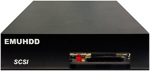 SCSI EMUHDD

IDE EMUHDD
[ SCSI Manual IDE Manual ] EMUHDD ("Emulator of Hard Disk Drive") is a combined technology that allows to emulate any kind of hard disk or magneto optic or removable drive. Communication with the machinery host supports a wide range of protocols, ATA-IDE, PATA-IDE, ULTRA-SCSI, SCSI I, SCSI II. Data is stored on a choice of supports, CF or modern SDC, and always easily accessible on PC for quick backup/restore. Each EMUHDD is custom configured to match exactly the geometry of the original drive (name, size, tracks, sectors...). There's no limit about the OS supported by the emulation: Win/Dos/Unix and any other legacy operating system. Depending on the application you'll be also given a recommended preventive maintenance guide, each 1/5 years, ensuring a unique 0% failure rate over time.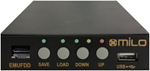 Network EMUFDD
[ NET Manual ] EMUFDD ("Emulator of Floppy Disk Drive") is a specific technology to emulate any kind of floppy disk drive, 8"/5.25"/3.5". Data is stored on an internal FRAM buffer that behaves like a hard disk, no data loss at power down. Robust TCP/IP networking, 80x faster than serial RS232, and industrial grade communication with an unlimited number of distributed PCs. Safety emulation/networking interlock and retrasmission ensure reliable data exchange under any circumstances. Text scripting support is included for seamless DNC integration. In case of "network down", an additional and fully-functional USB port is also available. No preventive maintenance is necessary because of the unique 20 years data retention warranty.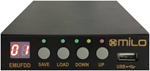 USB EMUFDD
[ USB Manual ] Based on the same technology of the Network EMUFDD, the USB-only version is suitable for users with no access to a network connection or exchanging a very low amount of daily data. Same internal FRAM buffer, that behaves like a hard disk, can be loaded/saved using a standard USB key. No need to pre-format the USB key with special hidden partition or to keep the USB key always in after data exchange. 00-99 numbered display can be used to choose subdirectories and non-standard images, both fully supported.
* * How to contact us ? * *
Describe your machinery in full detail:
type, model, control, running status, special drives/disks

Send your company reference and phone contact:
we will call you back if possible

EMUHDD & EMUFDD are custom professional products:
full machinery details are always necessary
* * Why EMUHDD & EMUFDD ? * *
Examples of drives emulated by EMUHDD & EMUFDD
Because it's a lifelong retrofit for your machinery

Supports robots, semiconductor tools, CNC, industrial machinery

It will work 24/7 in any harsh industrial environment for many years

It's the top solution available on the market: 0% errors and failures

10+ years of hands-on experience on 200+ different types of machinery

TCP/IP networking is 80x faster than a serial RS232

Each product comes with backup/restore software solutions

Hardware is manufactured in USA/EU, using industrial grade components

Direct support & installation from the manufacturer

All-inclusive digitalization & cloning services
Applications: Robots, Semiconductor Tools, CNC, Industrial Machinery
* * Features * *



Robust network PC software & GUI





Backup/restore PC software

All-inclusive service, from the machinery to the solution:

Digitalization of any special drive/disk that needs to get cloned

Support for all types of boot drives/disks, Win/Dos/Unix/...

Easy backup/restore PC software using standard ISO format

On-site or Skype remote assistance + operator training

Robust TCP/IP networking:

True TCP/IP speed 80x faster than a serial RS232

Robust emulation/networking interlock for industrial communications

Unlimited remote and distributed access to the machinery

Advanced text scripting support for seamless DNC integration

Flexible multi-configuration:

Fully configurable emulation (name, size, tracks, sectors...)

Jumper-free configuration, no need to stop/open/uninstall

Harsh industrial environment error resistance:

Preventive maintenance each 1/5 years, 0% failure rate

Adaptive emulation software with time and signal correction

Enhanced IN/OUT interface logic with up to 50mA signal support

Robust hardware, components and enclosure
القرص المرن المحاكي - القرص الصلب المحاكي - Emulador de disco duro - Emulador de disquete - Emulateur de disque dur - Emulateur de disquette - Дисковод гибких дисков эмулятор - Жесткий диск эмулятор - 硬盘仿真器 - 软盘仿真器 - 하드 디스크 에뮬레이터 - 플로피 에뮬레이터 - شبیه ساز فلاپی دیسک - شبیه ساز هارد دیسک - ハードディスクドライブエミュレータ - フロッピーディスクエミュレータ - โปรแกรมจำลองฮาร์ดดิสก์ - โปรแกรมจำลองฟลอปปีดิสก์ - giả lập đĩa cứng - giả lập đĩa mềm - Festplatte emulator - Diskett emulator - Emulatore hard disk - Emulatore floppy disk
* * Security alerts * *
Installing a faulty emulator on your machinery is a severe threat, specially when it's about emulators with internal design flaws that may show up only after a long term usage.

A list of known crash reports:
* * Software * *
DOS 3.3 ISO image (.IMG) 1440KB +Mouse +Cdrom Disk1
DOS 5.0 ISO image (.IMG) 1440KB +Mouse +Cdrom Disk1 Disk2
DOS 6.22 ISO image (.IMG) 1440KB +Mouse +Cdrom Disk1 Disk2 Disk3 Disk4 Disk5
DOS Utilities ISO image (.ISO) +Commander +Zip Disk1
A virtual floppy drive that mounts ISO image files (*.img) as new browseable computer resources.
Tested from WinXP (32bit) to Win7 (64bit).
Open source & free.
An ultra low level tool that lets you read and write floppies as image files (*.img).
Tested on ANY-density DOS/non-DOS floppies: 640KB/720KB/800KB/1.2MB/1.44MB/...
Works only with internal floppy drives (= non-USB).
Free.
* * Machinery Guide * *
* * HDD & FDD Guide * *
* * FDD Jumpering * *